Do you want to boost your internet visibility as a company owner in New York City? Search engine optimization is Muon Marketing's area of expertise in New York City. Our knowledgeable staff can help you differentiate yourself in the crowded and competitive New York market by optimizing your website to increase its presence on search engine results pages.
We can assist you in focusing on regional keywords to draw in prospective clients since we recognize the significance of search engine optimization in New York City. Don't overlook the advantages of SEO in New York City. Contact Muon Marketing right now to schedule a free consultation.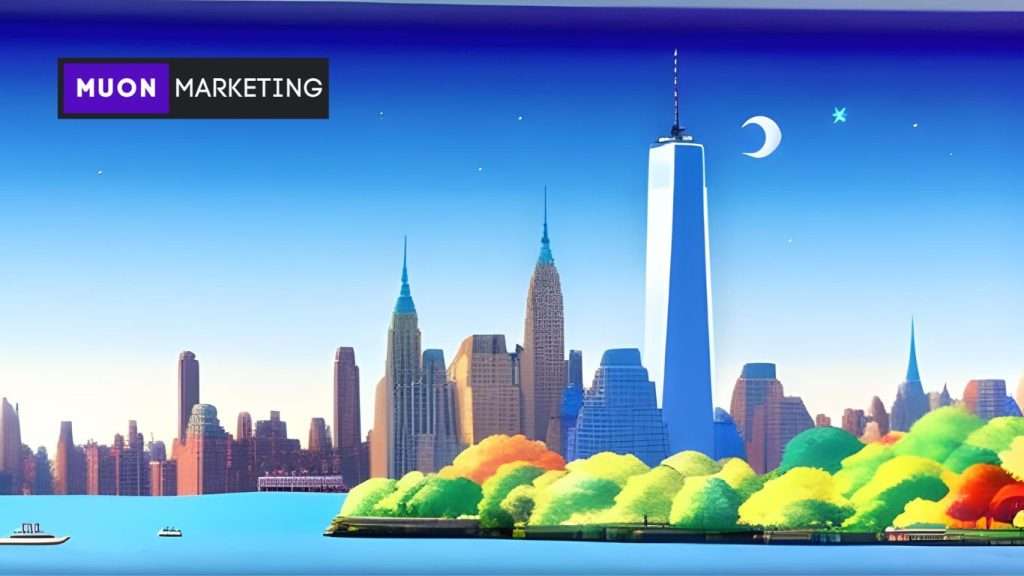 NYC Never Sleeps. Neither Should Your Marketing Efforts
New York, the city that never sleeps, is home to countless businesses that vie for attention from its busy inhabitants. As a business owner in this competitive environment, you need to ensure your online presence is strong and capable of attracting potential customers. At Muon Marketing, we specialize in search engine optimization (SEO) in New York and are eager to help you stand out in the Big Apple.
In this post, we'll discuss the importance of SEO, its key components, and why outsourcing your digital marketing efforts makes good business sense.
Importance of Search Engine Optimization in New York City
With millions of people searching for products and services in New York every day, having a strong online presence is crucial. SEO is the process of optimizing your website to improve its visibility on search engine results pages (SERPs). A well-optimized site can increase your organic traffic, boost brand visibility, and ultimately lead to higher conversion rates.
Keywords: The Foundation of SEO
To begin your SEO journey, you need to identify and target the right keywords. These are the terms and phrases that people use to find products or services like yours in search engines. By incorporating these keywords into your website's content and meta tags, you can improve your site's ranking on SERPs and attract more visitors.
Content is King
Creating high-quality, relevant content is essential for successful SEO. Search engines reward websites that offer valuable information to users. To optimize your content, focus on crafting informative and engaging pieces that answer your audience's questions, solve their problems, and showcase your expertise.
What is Local SEO?
Local SEO is a subset of search engine optimization that focuses on improving the visibility of a business in local search results. It is particularly important for businesses with a physical location or those that serve a specific geographic area. With more and more people relying on search engines to find local businesses, optimizing your online presence for local searches is essential to attract potential customers and stay ahead of your competition.
Local SEO involves a variety of strategies, including:
Optimizing your website for location-specific keywords
Claiming and optimizing your Google My Business listing
Ensuring your business information is accurate and consistent across online directories
Encouraging customer reviews and managing your online reputation
Creating localized content to target your audience
Building high-quality local backlinks
Leveraging local schema markup to help search engines understand your business information better
Targeting the NYC Market
As a business owner in New York City, you should pay special attention to local SEO. This involves optimizing your website and online presence for location-specific searches. By targeting local keywords and establishing your presence on local directories and review sites, you can increase your chances of appearing in "near me" searches and attracting customers from your area.
On-Page and Off-Page Optimization
On-page optimization involves improving the elements on your website, such as content, meta tags, and URLs, to enhance its search engine performance. Off-page optimization focuses on building high-quality backlinks and fostering a strong social media presence to improve your site's authority and credibility.
Digital Marketing vs Traditional Marketing
Your business can be promoted using both traditional and digital marketing strategies. While traditional marketing focuses on offline strategies like print advertising, billboards, and TV or radio commercials, digital marketing makes use of online channels and platforms to reach your target audience. Both approaches have benefits and drawbacks that may affect your decision regarding your marketing strategy.
Digital marketing offers several benefits, including:
Cost-effectiveness: Digital marketing may be more cost-effective than conventional marketing strategies, particularly for small enterprises.
Targeting with precision: By focusing on certain demographics and hobbies, you can make sure that the correct people hear your message.
Results that can be measured: Digital marketing makes it possible to monitor and evaluate the effectiveness of your efforts, making it simpler to optimize and enhance your approach.
Flexibility: Digital marketing campaigns can be easily adapted or changed based on performance, trends, or audience preferences. Traditional marketing, on the other hand, has some unique advantages:
Wide audience: Conventional marketing techniques, such as billboards or TV advertising, may get the attention of a big audience, even individuals who might not be engaged online.
Tangibility: Compared to digital advertisements, printed marketing materials like brochures and print advertising may leave a stronger impact.
Credibility: Conventional marketing techniques may boost your brand's credibility and reputation since some customers see them as being more reliable.
The best course of action is to blend conventional and digital marketing methods. By combining the two strategies, you may expand your audience and take use of each tactic's distinct advantages. This will allow you to create a well-rounded marketing plan that caters to different preferences and ensures your message reaches your target audience through multiple touchpoints.
Outsource Your Digital Marketing for Better Results
Being a business owner is already a full-time job. Managing SEO and digital marketing efforts can be time-consuming and complex, especially when you're trying to stay ahead in the competitive New York market. By outsourcing your digital marketing to experts like Muon Marketing, you can save time, money, and effort.
Outsourcing your digital marketing to a dedicated team can be more cost-effective than hiring an in-house employee. With their extensive experience and resources, experts can achieve better results in less time, allowing you to focus on growing your business.
Sign Up for a Free Consultation Today
Ready to take your online presence to the next level? Don't miss out on the potential benefits of SEO in the New York market. Sign up for a free consultation with Muon Marketing, or use our free website scanner to discover ways to improve your site's performance. Let us help you navigate the competitive digital landscape and achieve the online success your business deserves.