In today's digital age, every business, big or small, needs a strong online presence to stay competitive. Not only that, but it is equally essential to have a strong local presence to attract nearby customers. This is where local Search Engine Optimization (SEO) comes in. By mastering local SEO, businesses can boost their online visibility and attract local customers, which can lead to increased sales and profits.
Understanding the Importance of Local SEO
Local SEO is critical for businesses that serve a specific geographic area. It helps businesses reach potential customers in the vicinity who are looking for products or services that the business offers. With the rise of mobile devices, local searches have become more prevalent than ever before. According to Google, around 46% of all searches have a local intent, with 76% of local searches resulting in a phone call or visit to the business. This highlights the importance of local SEO and how it can impact a business's bottom line.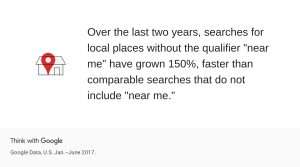 Practical Steps to Boost Your Business' Local Presence
Now that we have established the importance of local SEO, let's look at some practical steps that businesses can take to boost their local presence.
Claim your Google My Business (GMB) listing – GMB is a free listing service offered by Google that can significantly impact local search visibility. By claiming your GMB listing, businesses can provide essential information like business hours, contact details, and customer reviews.
Optimize your website for local SEO – This includes optimizing your website's content and metadata for local keywords and phrases. Businesses should also ensure their website is mobile-friendly, has a clear and concise URL structure, and has accurate and consistent NAP (Name, Address, Phone) information.
Build local citations – A local citation is an online reference of your business's NAP information. These citations can be built by listing your business on local directories and review sites like Yelp or TripAdvisor. Building citations can significantly improve a business's online visibility and help them rank higher in local search results.
By implementing these practical steps, businesses can enhance their local search visibility and attract more customers in their area.
Takeaway
Mastering local SEO is critical for businesses that want to increase their local footprint and attract nearby customers. By understanding the importance of local SEO and implementing practical steps to boost their local presence, businesses can gain a competitive edge and grow their bottom line.